The Internet of Things (IoT) has made it easier than ever to set up smart home alarm monitoring. Your existing professional alarm system can be upgraded to be managed via the Internet (smartphone) with ZERO monthly fees to provide Alarm System Free Monitoring.
Home Security is Important
IoT has also made it simple (and free) to monitor your home alarm system from anywhere using the Internet.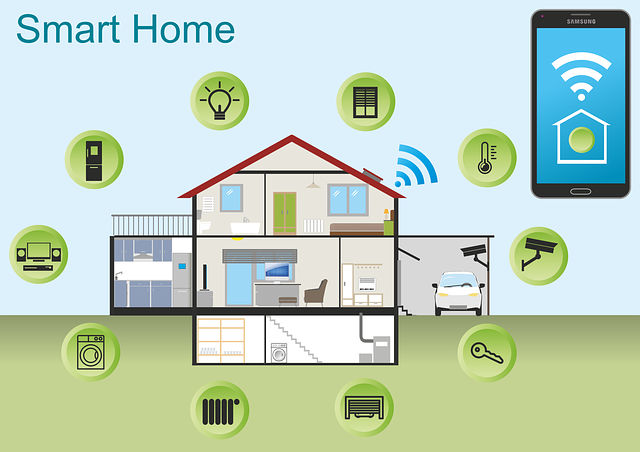 Alarm System Free Monitoring
Smart security systems are now highly customizable and available as do-it-yourself kits or as full-blown setups that include professional installation and monitoring.
DSC Wired or Hybrid Alarm Systems
If your house has a wired alarm system, there is a high chance that your system is using either a DSC (or Honeywell) Alarm Panel.
Both, Digital Security Controls (DSC) and Honeywell Vista alarm systems are industry-standard professional alarm systems. These systems can use wired alarm sensors, wireless sensors, wireless key fobs, and even fully wireless keypads. These systems can be professionally monitored, contact a private telephone number, or be upgraded to use the Internet (smartphone) with ZERO monthly fees!
Alarm System Free Monitoring is a simple upgrade away.
The Envisalink 4
The Envisalink 4 is the perfect way to upgrade your existing security system into a "smart" security system. It allows you to install a FREE security alarm system monitoring solution. You can view the status of, and control your alarm system through a standard web browser or smart-phone. You will also receive alerts via email or SMS of events in your home or office. All this with NO MONTHLY FEES.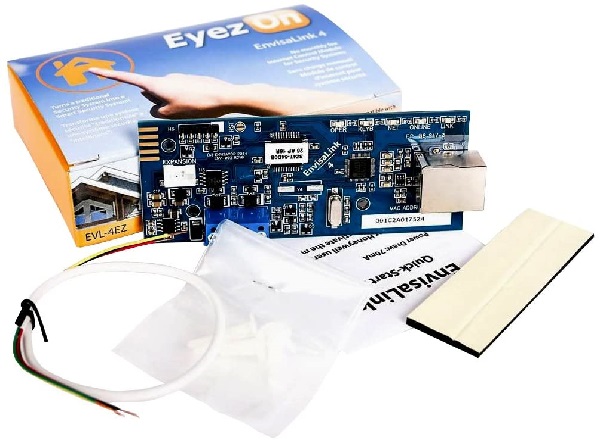 This little-known alarm solution has been around for over a decade. The Envisalink EVL-4 Internet module enables Internet self-monitoring, control, and email or SMS alerts for compatible DSC PowerSeries and Honeywell (Ademco) Vista alarm systems.
System Review:
8 years ago I personally installed and used this solution. I have used both the original EnvisaLink 3 EVL-3 and the newer EnvisaLink 4 New EVL-4 controller boards. My upgrade was to my existing home DSC 1832 alarm panel with no issues.
If you can wire a new alarm keyboard panel into your alarm panel, you can easily do this update.
In my area, they want $40+ per month for smart home monitoring. You can install this solution in less than an hour and in the event of an alarm send SMS/email alerts to multiple contacts. You cannot beat FREE Security Alarm System Monitoring,
Security Upgrade
Don't replace your alarm system, just upgrade it! Make your old security system new again with an EyezOn™ EnvisaLink EVL-4EZR module. This module allows you to upgrade your existing security system with Smart Phone control all over IP. No phone lines are needed. Easy Free Smart Home Alarm System Monitoring
Smart Home Remote Access & Alerts
Remote access is possible using a PC web browser or smartphone.  You can check the system status and control the system using your iPhone, iPad, or Android device as long as your device has Internet access. You can also use the EyezOn app to access information quickly and conveniently through either Android or Apple devices.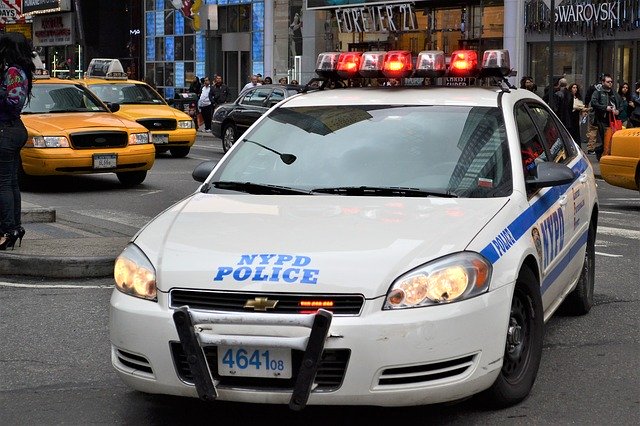 Easy Set-Up to Free Smart Home Alarm System Monitoring
The Eyez-On Envisalerts service is free: There are no set up fees and no ongoing monthly or annual fees.
There is no network configuration required, just connect the EVL4 to your Internet-enabled network.  No port forwarding is required.
Note: For DSC Power series systems, the alarm system does not require any programming.   For Vista systems, the INSTALLER code is required and some programming of the Vista panel is needed.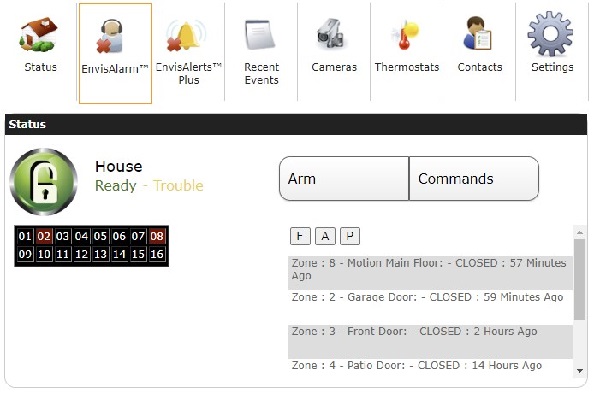 SELF-MONITORING WITH OPTIONAL PRO MONITORING
The Envisalink is a perfect addition whether the alarm is professionally monitored or not as it does not interfere with the monitoring of the panel and allows the alarm owner to monitor and control the system from anywhere in the world through an Internet-connected device.  
For those systems that are not already professionally monitored, Eyez-On offers a low-cost paid monitoring option.  This is completely optional.
The free Envisalerts service includes:
Remote arm, Disarm, Zone Bypass
Event Logging
Alerts by Email or SMS
Network Supervision
Mobile portal that works with iPhone, Android and Blackberry
SECURITY IS A PRIORITY
Connections are secure – users must enter their PIN code to disarm the system and communications are encrypted. Access and email/SMS alerts are sent via the free Eyez-On cloud portal.
With the new EyezOn App, users can receive real-time "push" notifications, SMS messages or email alerts just like on the cloud portal but with a clean and convenient UX design meant for use on smaller devices. Set up is simple, just hook up the module and install the app. Best of all, its free!
The EyezOn App lets you:
View recent events such as who entered when with times and dates recorded
View the status of partitions on your system
Access your WiFi cameras to check footage remotely as well as change Pan & Tilt (Foscam line of WiFi indoor/outdoor cameras)
Control your WiFi thermostat remotely (Only works with the STAT-50 from Eyezon and the CT-50/CT-80 from Radio Thermostat)
Easy-to-read Zone Grid lets you know exactly when someone was in a room by using motion detection
Expand the system by adding a WIFI Thermostat or Foscam WIFI camera.  Compatible with:

CT50-WIFI (Same as STAT50 on the Eyezon site)
Foscam FI9816P
Foscam FI903P
Foscam FI9828P

In addition to the FREE Security Alarm System Monitoring, Eyezon also offers two premium services.  Envsalerts Plus, which adds additional functions such as zone naming, and faster response time.  EnvisAlarms is their own Internet-based professional monitoring solution.
EyezOn EVL-4 Features:
Enables Internet remote control, status monitoring, email alerts and SMS alerts
Alerts include alarm, arm, disarm, trouble conditions
Arm, Disarm, Check system and zone status, bypass zones, trigger PGM output remotely
Works with iOs, Android, Blackberry and Windows Phone devices and even a PC browser
EyezOn App allows for access through Android and Apple devices on user-friendly design for smaller screens  
Connects to the alarm panel's keypad connection using standard 4 conductor wire
Connects to your Internet router using standard network patch cable (not included)
ZERO alarm system programming is required for DSC systems.  Installer code not needed
Installer code and some programming are required for Honeywell systems. See here.
No set-up or monthly fees – Free Cloud Service
Supports e-mail and text alerts to one or multiple contacts
Line-cut monitoring can notify if the system does not 'check in'
Connects via keypad bus
No port forwarding or router setup required
Works with dynamic or static IP
Always-on Internet connection required at alarm installation premises
Approximate dimensions: 4.3cm x 10.9cm
1-year warranty
What's included with the EVL4-EZR:
EVL-4 Internet board
Approx 3 inch 4 conductors connecting cable
Plastic stand-offs
Two-way mounting tape
FREE Security Alarm System Monitoring: Tested and working with the following panels:
PC1555 / PC1555 MX
PC1575
PC5010 (Power832)
PC5020 (Power864)
PC1616
PC1832
PC1864
Vista 10P
Vista 15P
Vista 20P
Vista 21iP
Vista 128P
Vista 250P
Not compatible with DSC PC1550 Classic or older, Alexor, Impassa, 9047, Neo
The EVL4 replaces the EVL3 and EVL2DS modules.
EVL-4 Compared to EVL-3
100MBit Ethernet vs 10MBit connection
Improved diagnostic LEDs
Support for larger systems (Eg. Vista 128p, 250p)
Do you Disce? iDisce!