Whether you use WordPress as a creator, publisher, or as an affiliate marketer the Google Site Kit Plugin for WordPress is a Must Have Google WordPress Plugin. Site Kit is the official WordPress plugin from Google for key metrics and insights about how people find and use your site.
The Google Site Kit for WordPress is a free plugin that lets you integrate different Google services. You can then easily view the data inside your WordPress dashboard from these services.
If you are looking to increase your SEO and Internet Presence and overall success of your website this is a Must Have Google WordPress Plugin.
What is the Must Have Google WordPress Plugin for WordPress?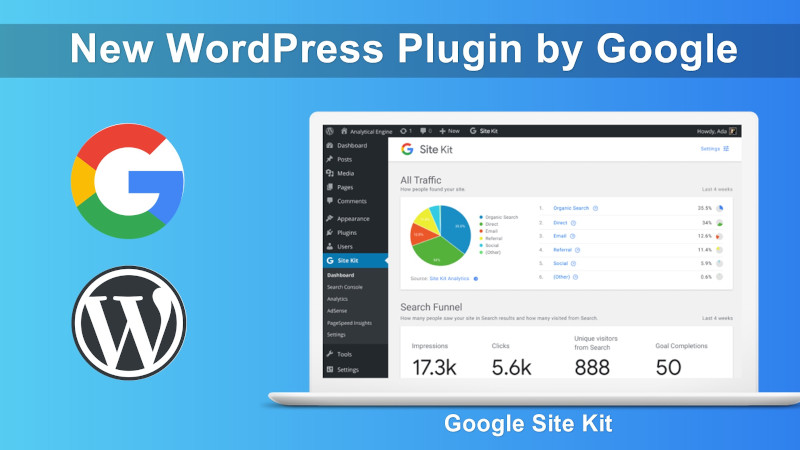 Google has created a dedicated WordPress plugin to streamline and efficiently gain access to 6 top Google services to increase the popularity of your WordPress website.
This plugin has officially launched on the WordPress Plugin Store and freely available to download and install. "Site Kit by Google" is open source software.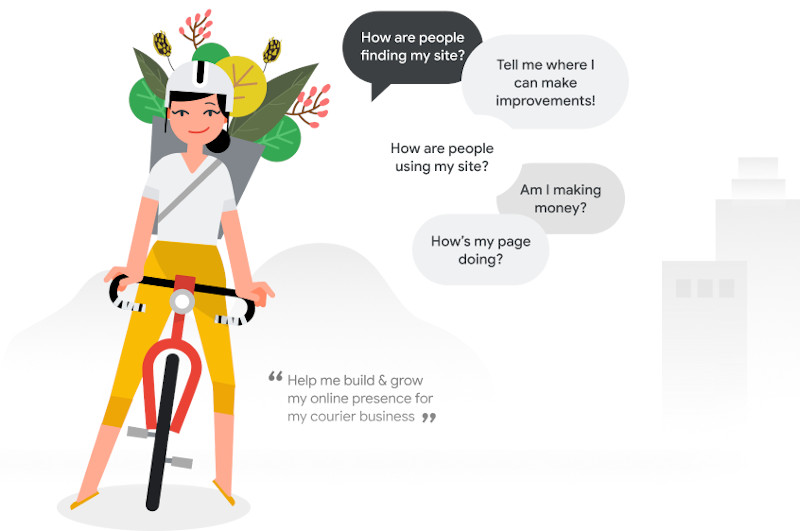 What 6 Google Services does Google Site Kit for WordPress Provide?
The Google Site Kit for WordPress is a plugin that effortlessly enables you to connect your WordPress website with these six Google services:
Google Search Console:
Search Console. With Search Console, you can monitor your site's traffic, its performance, and indexing status.
Google Analytics
Analytics. Google's popular web analytics tool provides you with massive amounts of data about your site's visitors, which is invaluable for marketing and optimization.
Google AdSense
AdSense. If you want to monetize your website using ads, AdSense is one of the most popular platforms you can use to insert ads and monetize your site.
Google PageSpeed Insights
PageSpeed Insights. This tool enables you to test your website's performance. It returns an overall score, as well as a broad range of suggestions on how to improve your desktop and mobile experiences.
Google Tag Manager
Tag Manager. This service enables you to add tracking pixels and snippets to your website without modifying code manually.
Google Optimize
Optimize. With Optimize, you can run in-depth A/B tests for your website. It integrates with Google Analytics to give you better insights into results.
Conclusion
The Google Site Kit for WordPress is a one-stop process of integrating all of these Google Services into your WordPress site. All of these tools are instrumental in tracking and increasing your site's popularity on the Internet.
It is important to remember, that you should already have your WordPress site connected to all of the 6 Google services above.
How to use Google Site Kit Plugin with WordPress
Step 1: Install and activate Google Site Kit for WordPress Plugin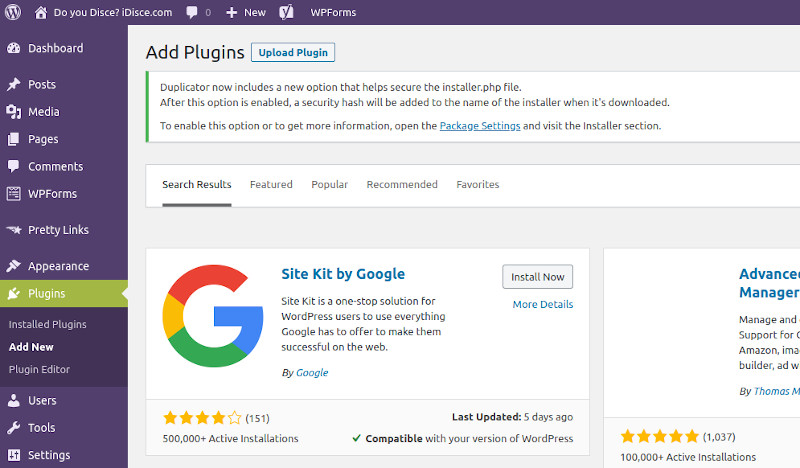 Google Site Kit Plugin is fully integrated into the WordPress Plugin Directory You can easily install this plugin using the "add new" option in the plugin menu of your WordPress management console.

Click on the Start Setup button show above.
Step 2: Verify ownership of your website and connect Search Console
Once you have installed the new plugin you need to confirm your ownership of the WordPress site you are administrating. The Google Site Kit Plugin will walk you through the steps.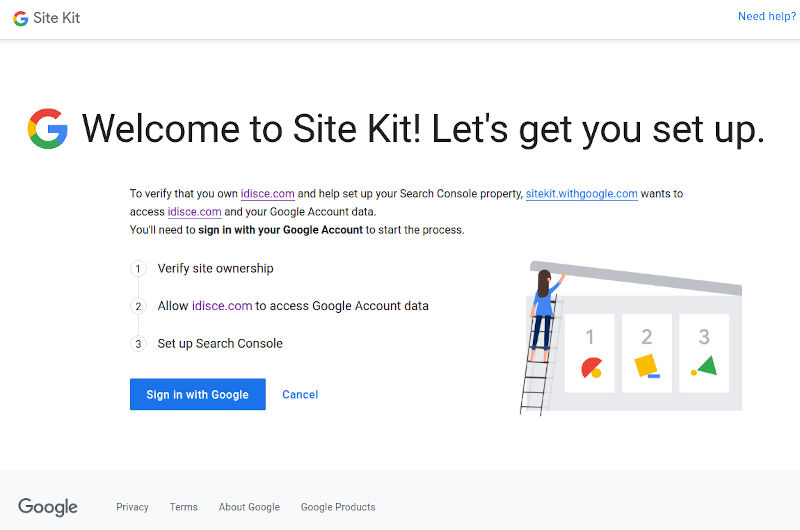 Sign into your Google Account and then you will proceed to authorize a handful of permissions to let the Google Site Kit Plugin access key data about your website and to link your Google account.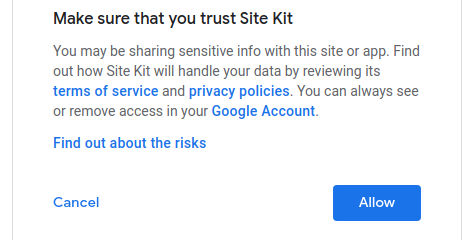 Click on Allow for each prompt to continue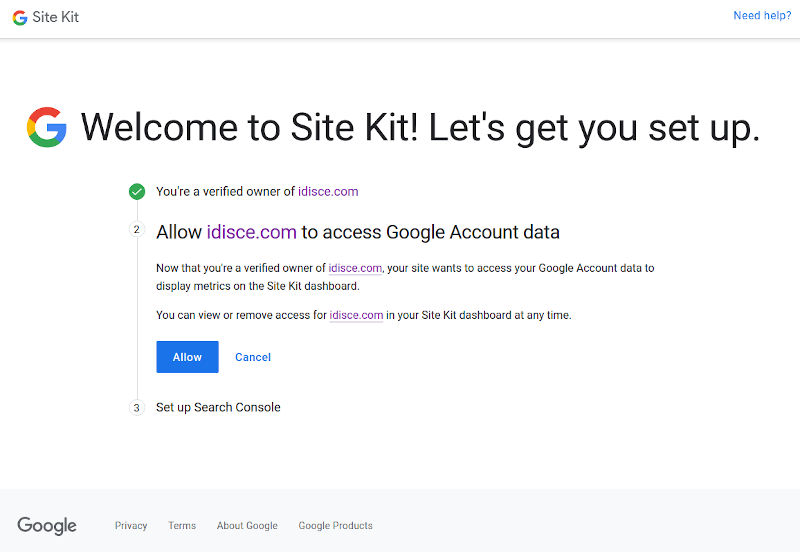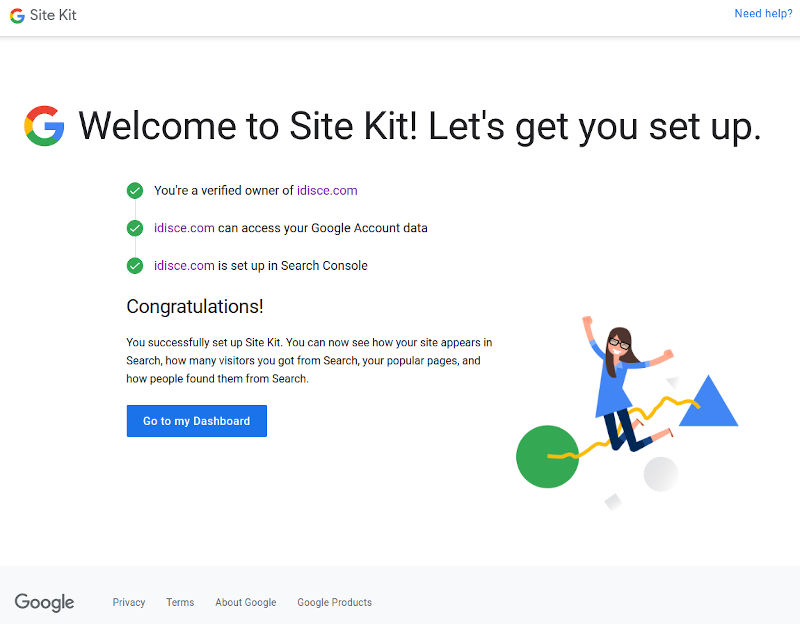 Step 3: Integrate your preferred Google services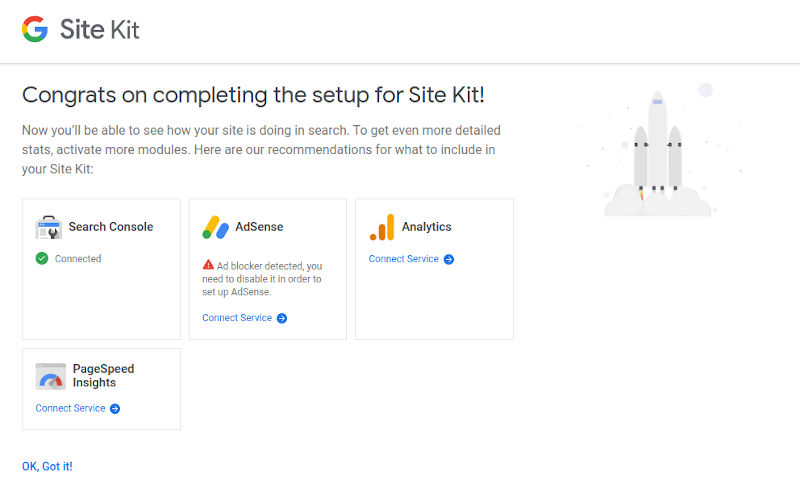 You can now proceed to ad the remaining 5 Google services to your web site.
Step 4: View your dashboard and reports
Your WordPress console screen will now have a new Google Site Kit field in the left column and you can select it to access all of your Google Services information in a single Dashboard screen.
With Google Site Kit, you can view different reports to get an overview. You can also create just a multitude of custom reports.
What makes Google Site Kit a Must Have Google WordPress Plugin
Key reporting of Google Site Kit includes:
All Traffic
When you connect your Google Analytics with Google Site Kit, you'll get a report for All Traffic to your web site. The report will show you different traffic sources that people use to visit your site. These include:
Organic: People who use search engines to find your site
Referral: When users click a link from another website to land on your site
Direct: These are visitors that enter the URL of your website in the web browser or have bookmarked your site
Email: Visitors that click on a link in the email that you sent and then visit your website

Search Funnel
Search funnel report by Google Site Kit shows the impressions and clicks your website got over a time period. It combines data from Google Analytics and Search Console to present you with the report.
From the report, you can see how many people viewed your website (impressions), how many clicks you got, the number of unique visitors, and how many goals were completed.

Popularity
If you're wondering what search terms people use to find your website, then this is the report you should look for. It gives you the top search queries for your site, so you know which keywords are ranking on the first page of Google. You can then use the data to improve your search rankings.
The Popularity report in Google Site Kit also shows the most popular content on your website. It displays pages that get the most traffic, including the top search term that's associated with the page.
Speed
Using the Speed report from Google Site Kit, you can improve your website's loading speeds. It integrates the Google PageSpeed Insights tool in your WordPress website, so you can view its performance on desktop and mobile from your dashboard.
The plugin assigns scores to indicate how fast is your website on both the devices. For instance, if you get a speed score between 90 and 100, your website is fast. But if it's between 0 – 49, then it's slow.
This data is valuable for your developers, as they can use it to find ways to decrease the load time of your website.
AdSense
The last report that Google Site Kit shows is AdSense. It provides you an overview of your site's overall Google AdSense performance. If you're using AdSense to monetize your website, then this report is important for you.
It shows the estimated earnings for today, yesterday, this month, and last month. Using the AdSense report, you can also view your ad impressions, earnings per thousand page views (RPM), and top-earning pages
Conclusion
The Google Site Kit Plugin for WordPress should be one of the very first plugins that you install on any WordPress site. This is the "must have" Google WordPress Plugin that brings all the best Google Tools to your WordPress site.
Do you Disce? iDisce
Other Articles of Interest